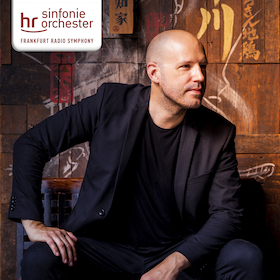 Music Discovery Project
hr-Sinfonieorchester & Schiller & Pacho Flores &nbsp
Pfaffenwiese 301
65929
Frankfurt am Main
Tickets from €14.00 *
Concession price available
Event organiser:
Hessischer Rundfunk, Bertramstr. 8, 60320 Frankfurt am Main, Deutschland
Event info
Music Discovery Project

Trumpet in Residence

SCHILLER | Synthesizer/Sequenzer
Pacho Flores | Trompete


»WeltReise«

Die Begegnung verschiedener musikalischer Welten ist das Markenzeichen des Music Discovery Projects, das einmal jährlich die myticket Jahrhunderthalle füllt und das Publikum bereits seit mehr als 15 Jahren stets aufs Neue begeistert. Ungewohnte Kontraste und Mischungen zwischen Klassik und Pop, Orchester und Elektronik sind hier immer wieder neu zu erleben. Die Ausgabe 2024 mit dem Titel »WeltReise« bereichert der Elektro-Musiker SCHILLER.

1998 begann alles mit dem Club-Hit »Das Glockenspiel«. 25 Jahre, zehn Top-Ten-Alben und mehrere Gold- und Platin-Auszeichnungen später, zeigt sich: Das Musikprojekt SCHILLER hat mittlerweile eine treue Fangemeinde hinter sich versammelt. Aber Christopher von Deylens Schaffensdrang hält unvermindert an. So hat er schon mit internationalen Poplegenden wie Genesis-Gründer Mike Rutherford, Klassik-Star Lang Lang, Deutschrapper Thomas D oder Schauspielerin Anna Maria Mühe zusammengearbeitet. Da für den Soundvisionär und »Elektronik-Romantiker« Christopher von Deylen keine musikalischen Grenzen existieren, passt er perfekt zum Music Discovery Project des hr-Sinfonieorchesters.

SCHILLERS sphärische Klänge finden ihren Weg durch die Welt, die er in ausgedehnten Reisen voller Neugier erkundet. Besonders bewegend waren für Christopher von Deylen mehrere Konzerte im Iran, wo er als erster westlicher Künstler seit 40 Jahren vor tausenden iranischen Fans auftrat. Daraus entstand eine musikalische Verbindung zur iranisch-kurdischen Künstlerin Yalda Abbasi, die er zu den beiden Konzerten mit dem hr-Sinfonieorchester mitbringen wird. Seine vielseitig inspirierte elektronische Musik begegnet, mischt und kontrastiert sich dabei mit den farben- und facettenreichen Werken, die das hr-Sinfonieorchester an beiden Abenden präsentieren wird. Als Solist ist außerdem noch der junge venezolanische Trompeter Pacho Flores zu erleben, der das grenzüberschreitende musikalische Programm mit Virtuosität und südamerikanischem Esprit befeuert. Ein ungewöhnliches wie spannendes Music Discovery Project ist somit auch 2024 wieder garantiert.

Konzertdauer: ca. 120 Minuten – keine Pause!
___________

The encounter of different musical worlds is the trademark of the Music Discovery Project, which fills the myticket Jahrhunderthalle once a year and has been thrilling audiences for more than 15 years. Unusual contrasts and mixtures between classical and pop, orchestra and electronics can be experienced here. The 2024 edition, entitled »WeltReise«, will be enriched by the electro-musician SCHILLER.

It all began in 1998 with the club hit »Das Glockenspiel«. 25 years, ten top ten albums and several gold and platinum awards later, it shows: The SCHILLER music project has now gathered a loyal fan base behind it. But Christopher von Deylen´s creative urge continues unabated. He has already worked with international pop legends such as Genesis founder Mike Rutherford, classical music star Lang Lang, German rapper Thomas D and actress Anna Maria Mühe. Since there are no musical boundaries for the sound visionary and »electronic romantic« Christopher von Deylen, he is a perfect fit for the Music Discovery Project of the Frankfurt Radio Symphony.

SCHILLER´S spherical sounds find their way through the world, which he explores in extensive travels full of curiosity. Particularly moving for Christopher von Deylen were several concerts in Iran, where he was the first Western artist in 40 years to perform for thousands of Iranian fans. This resulted in a musical connection with the Iranian-Kurdish artist Yalda Abbasi, whom he will bring to the two concerts with the hr Symphony Orchestra. His eclectically inspired electronic music will encounter, mix and contrast with the colorful and multifaceted works that the Frankfurt Radio Symphony will present on both evenings. The young Venezuelan trumpeter Pacho Flores will also be featured as a soloist, fueling the cross-border musical program with virtuosity and South American esprit. An unusual and exciting Music Discovery Project is thus guaranteed again in 2024.

Concert duration: about 120 minutes – without a break!
Videos
Event location
Jahrhunderthalle
Pfaffenwiese 301
65929 Frankfurt am Main
Germany
Plan route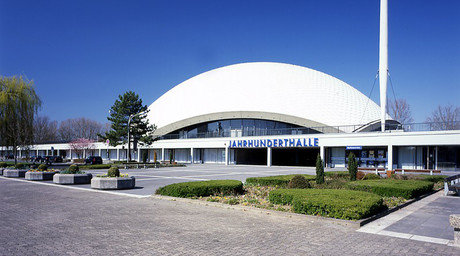 Die Jahrhunderthalle in Frankfurt am Main hat sich als internationales Kultur- und Kongresszentrum längst etabliert. Inmitten des wirtschaftlich florierenden Rhein-Main-Gebiets liegt die Halle besonders verkehrsgünstig und bietet somit den idealen Rahmen für internationale Großveranstaltungen.

Charakteristisch für die Frankfurter Jahrhunderthalle ist das in Glas eingefasste und von einer Kuppel überwölbte Auditorium. Unter dieser Sehenswürdigkeit befindet sich ein großer Saal, in dem über 2.000 Gäste Platz nehmen und die Besten der internationalen Show- und Musikszene genießen können. Die sieben Konferenzräume sind ideal für Tagungen, Seminare oder Workshops und werden gleichermaßen für kleine Ausstellungen, Bankettveranstaltungen oder private Feiern genutzt. Die moderne Architektur und die hochwertige Technikausstattung lassen jede Veranstaltung einmalig werden. Neben den ausgedehnten Grünflächen verfügt das Hallenareal über zwei Terrassen, ein Atrium, eine Wasserfläche und ca. 1.300 Gästeparkplätze. Der Frankfurter Flughafen sowie der Hauptbahnhof sind in etwa 15 Minuten zu erreichen.

In Frankfurt betraten bereits Größen wie Frank Sinatra, Jimi Hendrix, 50 Cent und Lady Gaga die Bühne des zukunftsweisenden Veranstaltungshauses. Lassen Sie sich von der einzigartigen Akustik und der außergewöhnlichen Bauweise faszinieren. Kommen Sie in das Kultur- und Kongresszentrum Jahrhunderthalle in Frankfurt am Main.